Men's Jackets and Bombers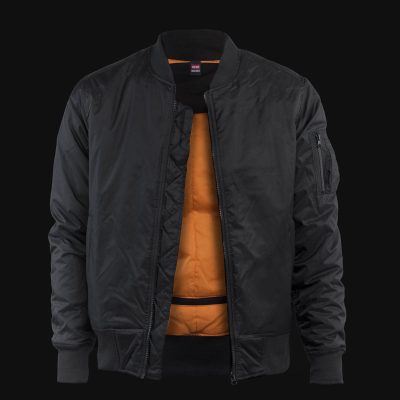 Lightweight men's windbreaker jacket made with rib knit cuffs and waistband. This fashion and cool bomber jacket is great for casual wear and can be worn all year round. It is made from 100% nylon and has a polyester lining. It has a contrasting orange lining, set in sleeves, full zip and pocket to the upper arm.
AT 1INMIND, URBAN FASHION FANS CAN FIND A VARIETY OF MEN'S BOMBER JACKETS CRAFTED WITH GREAT ATTENTION TO DETAIL
The portfolio of the 1INMIND Online Shop includes stylish jackets made of top-quality materials with great attention to detail. Our winter jackets are made of memory fabric, which makes them very comfortable. Properly wadded, they will keep you warm while you look super-cool. Our winter jacket offers will make a nice addition to your casual style along with our elongated t-shirts, men's jogger fleece pants, and hoodies. Whatever you may need, we have you covered! Check out our latest promotions as well as our free delivery options!
When you set off to build your urban style, it's like rapping your favorite rhymes in a song: one layer after the other. That's what makes your choice of a winter jacket so important. This is the top layer of your outfit that everyone will see. So, there's no room for errors when you choose your winter jacket. Our urban-style jackets look so cool in winter. 1INMIND offers urban-style clothes for every season. Check out our hottest jacket deals and take advantage of our free delivery for orders above $200. We've just made you an offer you can't refuse! You can also check the Discount Section of our website. In winter, spring, or autumn, 1INMIND's jackets will give you the swag you've always wanted.
Besides Winter Jackets, We Offer Many Other Stylish Items
At 1INMIND, you can find cool men's t-shirts, caps, and accessories. Here, you can also find the modern classic Trailblaze.02 with a balaclava. Our sweatshirts are the real sweet spot in our portfolio. If you have already picked up a jacket, why don't you check them out? Visit 1INMIND regularly and your style will always rule, be it in the club or the great outdoors!