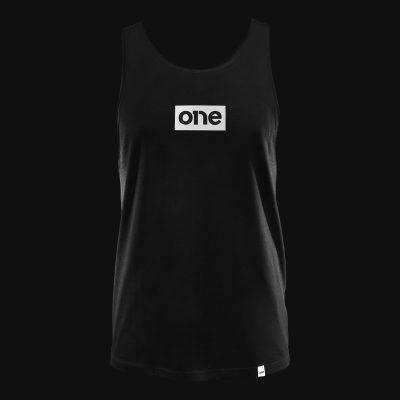 Men's black tank top shirt made of lightweight stretch cotton and polyester blend. Regular fit with extra length and stylish raw edge collar. Great choice for fitness workout or comfy-casual look. White rubberized brandmark logo on the chest and small embroidery label.
OUR LATEST TANK TOP MODELS ARE THE HIT OF SUMMER 2021
Always true to 1INMIND's signature style!
Men just love wearing tank tops in summer. Where weather permits it, tank tops have become a symbol of the ultimate men's comfort and signature look. From a piece of unpretentious underwear, tank tops have evolved into a casual wear staple. In fact, one of the first designs we created at 1 INMIND was a tank top. To create the most comfortable cut, we consulted sportsmen and actors. To this day, this is our signature tank top design.
It fits slim and buffed body types equally well. Our secret is the super-sheer fabric that we use for the least restrictive fit and the wide-open neckline. Our tank tops are suitable for sports and recreation alike. The predominant colors are black and white. Only water-based eco-friendly dyes have been used in the velour and rubberized logos and stamps. When choosing a tank top, there's no room for hesitation – a plain design in neutral colors underlines your physique.
Multi-colored designs are more demanding towards the rest of your outfit. They go well with colored shorts or blue jeans. We have purposefully limited our product lines to avoid unwanted repetition of the designs. The current collection is only available until stocks are exhausted. Your order is shipped within 24 hours. Free delivery for orders above $200. To keep colors bright, you must follow the washing instructions on the item's label.